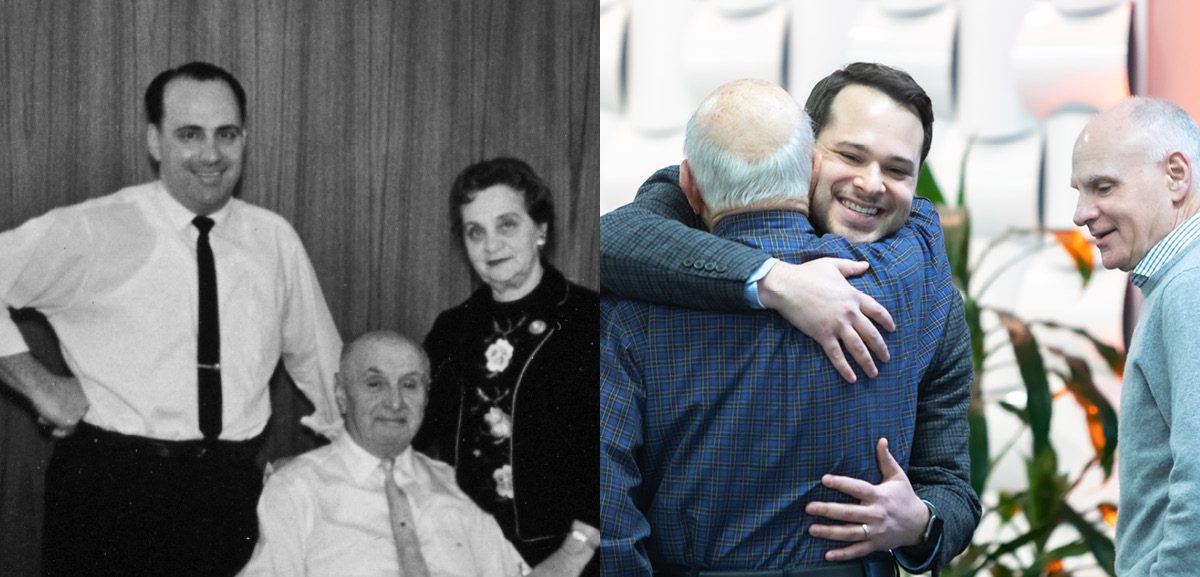 80 Years of Standard Textile
From humble beginnings during a difficult era to becoming an international, vertically integrated powerhouse in the textile industry, our story continues to unfold.
The Journey to America
Standard Textile was founded by the Heiman family, headed by Charles Heiman, an immigrant from Germany who had been incarcerated in the Dachau concentration camp. Charles escaped from the concentration camp, joined his family, and left Germany for the United States. "We had to learn the American way of doing things. When my father couldn't get a job during the Depression, he decided to start his own business," shared Paul Heiman, former Chairman of the Board and Charles' son.
Finding a Home in Cincinnati
Standard Textile was established on July 1, 1940, as a small business based out of the Heiman family's third floor apartment in Cincinnati, Ohio. All of the company's original employees were also refugees. The company grew quickly and in 1945 expanded to an old shoe factory in downtown Cincinnati. At the end of World War II, the growing need for textile products helped create demand for Standard Textile's high-quality items and diligent customer service. In 1963, Standard Textile moved to another Cincinnati-area site that would eventually become our world headquarters and remains so today.
Leading Through Innovation
With Paul Heiman as the CEO, Standard Textile expanded into a successful, growing company, specializing in healthcare textiles. In the mid-1970s, Standard Textile created its first international manufacturing operation in Arad, Israel. During the 1980s, we developed what would become the industry standard for reusable surgical technology: ComPel® fabric. Along with 28 other patented textile technologies, Standard Textile's team developed products and services that led to the company's dramatic growth in healthcare textiles throughout the United States and 32 other countries around the globe.
Growing Around the Globe
Under the leadership of Paul's son, Gary, our current president and CEO, over 4,000 committed associates at 24 manufacturing, distribution, and sales facilities around the world serve customers in more than 90 international markets. With more than 80 patents and counting, our products are engineered to deliver durability, longevity, and value. Leveraging textile design, manufacturing, and laundry expertise, and our vertically integrated global infrastructure, we serve customers in the healthcare, hospitality, interiors, workwear, and consumer markets worldwide.
What's Next for Standard Textile
And now, Gary's son, Alex, is poised to oversee the next era of advancement. After 80 years of growth, over 80 patents, and thousands of team members, we continue to work together with one goal in mind: fulfilling Charles' original promise of providing a better life for people around the world.