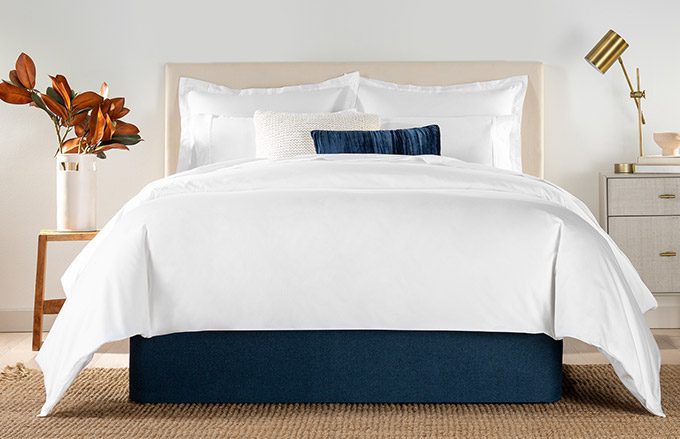 A minimalist look that has become so loved by designers everywhere, platform beds have become a popular choice for modernizing a room by providing a stylish and sleek aesthetic. However, quality platform bed frames can be expensive and often require professional installation—which can be hard to schedule and complete in today's environment.
Mindfully manufactured, the Circa® Bed Wrap was created as a faster, simpler, and much more affordable way to get the modern look of a platform bed without the headache of one.
What is the Circa® Bed Wrap?
Circa® Bed Wrap was designed with luxury hotels and resorts in mind. Hoteliers came to our R&D team asking for a stylish, contemporary alternative to the tired, old-fashioned, dust-collecting bed skirt.
Our designers invented an easy to install solution that completely changes the look of the bed, as well as the entire guest room. By creating the appearance of a platform bed using your existing bed frame, the Circa® Bed Wrap instantly transforms the bed into a slumber centerpiece.
Budget friendly option for a platform bed aesthetic
A quality platform bed can run hundreds of dollars or more. Not to mention the possibility of having to invest in a new mattress that will work with the platform bed. By adding a Circa® Bed Wrap to your traditional bed frame, you can achieve the same, sleek look for a fraction of the cost, and still use your box spring and mattress.
Our Circa® Bed Wrap has become a favorite among residential designers and vacation rental owners by offering a quick guest room refresh without breaking the bank. The Circa Bed Wrap was featured on the Today show's "Shop TODAY" segment Mar 11, 2022 and also appeared in their blog "8 best sheets and towels to buy in 2022, according to Good Housekeeping."
The Circa® Bed Wrap can easily be installed by one person without ever lifting your mattress. Scoot your bed away from the wall a bit, unroll the Circa®, wrap it around your bed frame, snap and tighten some buckles, tuck excess fabric under your mattress, and scoot your bed back. Voilà! Reviewer Top5 confirms "no heavy lifting involved…"
Environmentally-friendly bamboo slats inside the wrap provide the internal structure and stability, and a variety of Circa® Bed Wrap fabric colors are available for you to choose from. Looking to match your current décor? Our design team can help with color consultations and offer sample swatches of woven fabric options to help you make the right selection for your property's guest room.
Circa Bed Wrap FAQs:
What type of bed does this work with?
Circa® Bed Wrap works best with traditional metal bed frames and wall-mounted headboards. It's not recommended for use on beds with attached headboards or foot rails and on most adjustable beds.
---
Will Circa® Bed Wrap accommodate the height of my bed?
Circa® is designed to accommodate 14"–16" drops. That's the distance between the top of your box spring/bottom of your mattress and the ground. Our design team will work with you every step of the way if custom sizing is needed.
---
What material is Circa® Bed Wrap made from?
Circa® Bed Wrap is made from high-quality fabric that envelops sturdy, environmentally-friendly bamboo slats. This gives each Wrap the structure and stability needed to maintain a clean, sleek look that doesn't shift, slip, or bunch up.
---
What patterns are available?
We offer Circa® Bed Wrap in the following patterns with various colorways: Zircon, Milton, Pivot, Hudson, Juno, Jewel, Oslo, Manchester, and Medina.
---
How easy is Circa® Bed Wrap to clean?
Spot clean only with mild detergent.
---
Is Circa® Bed Wrap available for retail?
Yes, our Circa® Bed Wrap is available via our Standard Textile Home website.
---
Standard Textile is focused on delivering custom interior solutions for healthcare, hospitality, educational, and other commercial environments. For more information about the Circa® Bed Wrap, contact our Interiors Group.