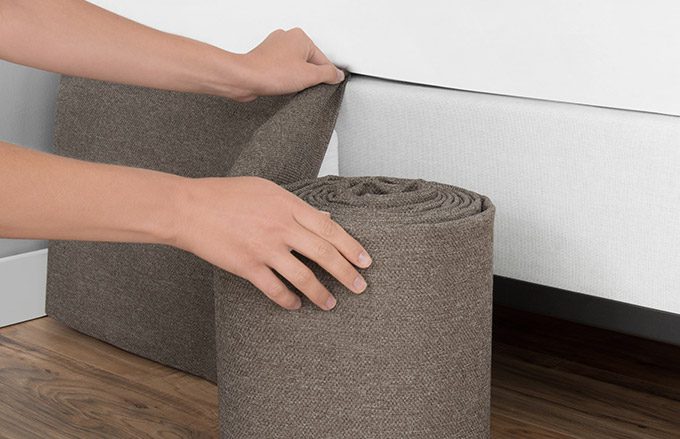 As travel picks up and guests return, leave last year behind and upgrade the look of your beds. Read on for affordable bed skirt alternatives that are easy to implement and launder.
Bye, Bye, Bye Bed Skirts!
Bed skirts have long been a staple in hotels. They can bring a pop of color or texture into the room. However, the hospitality industry is seeing a shift toward platform beds to hold mattresses, and forgoing the bed skirt altogether. Guests love that "at home" look, even when traveling. And while we've seen the overall appearance of bed skirts modernize and become more aesthetically pleasing, housekeepers find bed skirts notoriously difficult to keep looking fresh and clean.
Affordable Alternatives to Bed Skirts & Platform Beds
That said, a shift toward platform beds can be expensive. With the other challenges of this past year, perhaps you also had to remove decorative elements in your rooms for increased cleanliness protocols and you are looking for ways to safely add design elements back in. If you'd like to upgrade the look of your bed, but don't have the budget for a costly platform bed, here are two affordable alternatives:
Circa® Bed Wrap – The look of a platform bed without the expense. Easy to install around your hotel bed's existing bed frame for a clean, modern look.
Encircle® Box Spring Cover – A new, budget-friendly option to cover up box springs that's quick and easy for one housekeeping team member to remove for laundering.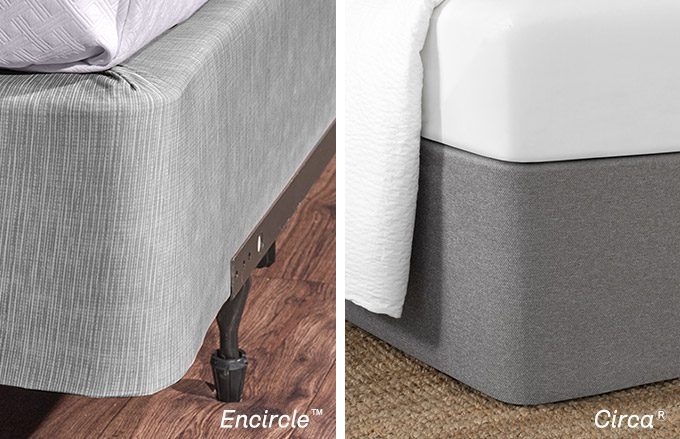 Both the Circa® Bed Wrap and Encircle™ Box Spring Cover offer:
Various stock color offering with customizations available
Quick, easy one-person installation
Fits on existing beds and box springs
Continue reading to learn more about what makes each bed skirt alternative unique.
Circa® Bed Wrap: The Look of a Platform Bed without the Cost
Made with hoteliers in mind, the Circa® Bed Wrap creates a faster, simpler, and more affordable way to get the clean, contemporary look of a platform bed without all the trouble and cost. Best part? It can be installed by only one person, using your existing mattress and box spring. By wrapping the Circa® around your bed frame and securing it in the back with buckles, you instantly have the sleek appearance of a platform bed.
Eco-friendly bamboo slats wrap carefully around your bed while providing structure and stability for the fabric. Our design team can even match the fabric with any current décor you may have. Be sure to check out our stock fabric options for Circa®, though!
The Circa® Bed Wrap has become a favorite among designers, hoteliers, and even home consumers as an affordable alternative to a platform bed.
Read the latest FAQs about Circa® Bed Wrap.
Interested in purchasing Circa® Bed Wrap for your own home? Visit Standard Textile Home to order today!
Encircle® Box Spring Cover: Extend Product Life with a Box Spring Cover
A brand new bed skirt alternative is available now with our innovative, yet simple, Encircle® Box Spring Cover. Eliminating the need for a bed skirt, Encircle® stretches and covers your box spring, creating a modern and clean look. Encircle® can work with various box spring heights and widths so your team can rely on a sleek fit, no matter the size.
Box spring covers are beneficial to hoteliers as they prevent normal wear and tear, thus extending the life of the product, and are a great defense against dust and allergens. As a bonus, Encircle® is machine-washable and takes mere seconds to remove for laundering.
Encircle® is stocked in two colors (Sand and Magnesium), but our design team can help you match any pattern or color to meet your preferred environment. Easy to install and quickly clean, Encircle™ is an efficient change any hotelier can implement while sticking to a budget.
Read more about sizes and installation of Encircle® Box Spring Cover.
All the Upgrades, None of the Hassle
Upgrading guest rooms can feel overwhelming and difficult to fit in the budget. We're thrilled to offer affordable bed skirt alternatives to help you make those improvements and leave 2020 in the past.
It's a new year with a new you – and time we say goodbye to the bed skirt. Reach out to your consultant or contact our team for more information.