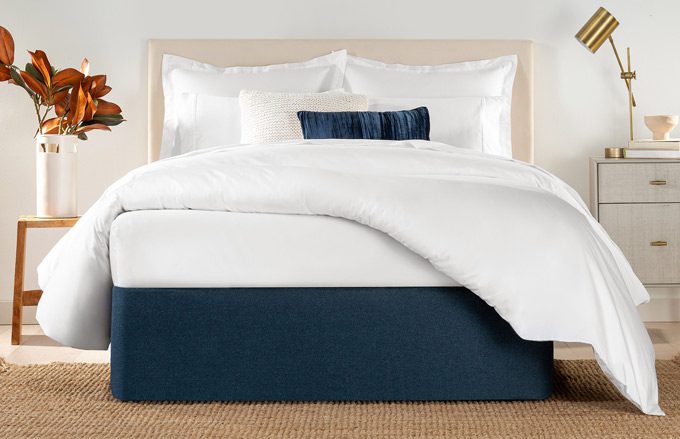 Considering Circa® Bed Wrap for your home? Visit Standard Textile Home to purchase online.
Are you a hospitality professional? Read on to learn more or contact our team to learn how Circa can upgrade the look of your guest rooms.
---
What is the Circa® Bed Wrap?
Circa® Bed Wrap is a solution you won't find anywhere else. Circa® offers a simple and affordable way to get the smooth, modern look of a platform bed without the hassle.
Our team designed Circa® with luxury hotels and resorts in mind. Our hotel partners approached our team looking for an affordable, stylish, contemporary alternative to the tired, dust-collecting bed skirt.
After a fruitful collaboration, Circa® was born. By creating the appearance of a platform bed using your existing bed frame, the Circa® Bed Wrap instantly transforms the bed into a slumber centerpiece.
Fashion-forward, Easy-to-Install Alternative to Bed Skirts
Our Circa® Bed Wrap has become a favorite among hotel designers, hoteliers, and vacation rental owners by offering a quick guest room refresh without breaking the bank. The Circa® Bed Wrap can easily be installed by one person without ever lifting your mattress. Here's how:
Scoot your bed away from the wall a bit.
Unroll Circa® Bed Wrap and wrap it around your bed frame
Snap and tighten the buckles, then tuck excess fabric under your mattress
Scoot your bed back. And voilà – you're done!
Check out this video to see how easy it is to install:
Questions about Circa®? Check out the FAQs
For Hotels and Hospitality Management
If you would like to match your current brand and existing décor, our design team can help with color consultations and offer sample swatches of woven fabric options. Explore our fabric gallery for available patterns and colorways for Circa® Bed Wrap.
Ready to transform your property's guest rooms? Contact our hospitality consultants for wholesale options and fabric selection assistance.
If you are an individual interested in Circa® for your home, visit Standard Textile Home to purchase.