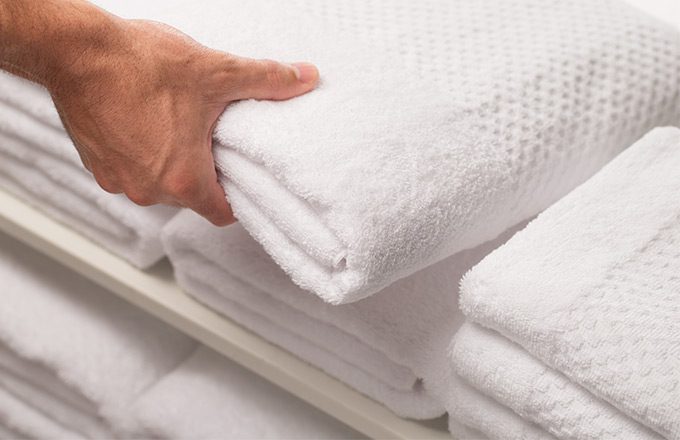 This case study outlines how our customer, a healthcare system based in a major U.S. city, achieved considerable cost savings, while supporting its goals of sustainability and reducing environmental impact. As a national leader in patient care, research, and education, the company takes pride in its patient- and family-centered care and values its partnership with the community. Read on to learn how they met their goal of Sustainability & Cost Savings with Pre-Laundered Linens.
The healthcare system has developed a centralized distribution model to deliver and manage linen. An outside laundry provides bulk processing. Linen is delivered daily to two 300+ bed hospitals and delivered throughout each week to over 30 specialty hospitals and clinics.
Seeking Creative Cost Savings for Linen Management
At the end of 2014 the linen management team approached Standard Textile to look at creative ways to achieve cost savings while providing quality linen products, including flat sheets, fitted sheets, pillowcases, and bath towels, to the hospitals.
The healthcare system and Standard Textile share a commitment to injecting sustainability into their products, systems, and operations. The team decided to explore the pre-laundered linen products offered by Standard Textile.
Environmental Impact & Cost Saving of Pre-Laundered Linens
When a hospital purchases new or replacement linen, the linen needs to go through a wash cycle before it is ready for patient use. By integrating the production and wash processes, STC's pre-laundered products provides linen that:
Consumes 58% less energy than a typical laundry during the first processing.
Avoids 15,675 pounds of carbon dioxide per 100,000 textile pounds during the first processing.
Eliminates the initial wetting cycle in the laundering process, which eliminates 1/2 gallon of water per textile pound.
Eliminates one drying cycle from the laundering process, which eliminates 2,046 BTUs per textile pound.
The healthcare system was already using the pre-laundered washcloth with success. By expanding the use of pre-laundered linen, the system could achieve savings and expand its sustainability program while providing a quality linen product. The new linen would drive out system cost and expand the healthcare system's sustainability efforts.
Program Results
The healthcare system saw increased savings by expanding the pre-laundered linen products and eliminating the first wash cycle. The program began in mid 2015 and was fully implemented by early 2016. Cost savings increased 582% between 2014 and 2016.
From the sustainability impact, expanding the use of pre-laundered linen products created significant increased savings in water, carbon dioxide, and MMBTU's. The following results were achieved:
Conserved over 80,000 gallons of water in 2016 versus just over 10,000 in 2014.
Avoided than 25,000 pounds of carbon dioxide avoided in 2016 versus less than 5,000 in 2014.
Increased MMBTU savings for natural gas utilization by over 500%.
The linen management team's efforts to utilize pre-laundered linen allowed for increased cost savings while expanding the healthcare system's sustainability initiatives. Standard Textile's Consultative Services team continues to work with the healthcare system's linen team on other cost reduction and service process improvement initiatives throughout their linen system.